akenberg meets
Amanda Borgfors Mészàros
One of Sweden's young new couture talents is Amanda Borgfors Mészàros, who has already attracted attention from the industry for her handicraft. In 2018, this Beckmans College of Design graduate won the Vogue Talents Award as well as the Marianne & Sigvard Bernadotte Art Award, and Ung Svensk Form.
Working in a hand-crafted practice where quality and sustainability comes first, means that all steps are carefully thought out. Amanda believes that we have to look at fashion in a new way, and by working as a designer she is allowed to dream about and experiment what the future of fashion could look like.
— The fashion industry is facing big challenges, which allows me to create something that could make a change for the better with sustainability and a smart mindset. My family had always been very artistic through many generations, and I believe that art and fashion have in some way been with me from very young age, without me understanding it during my younger years.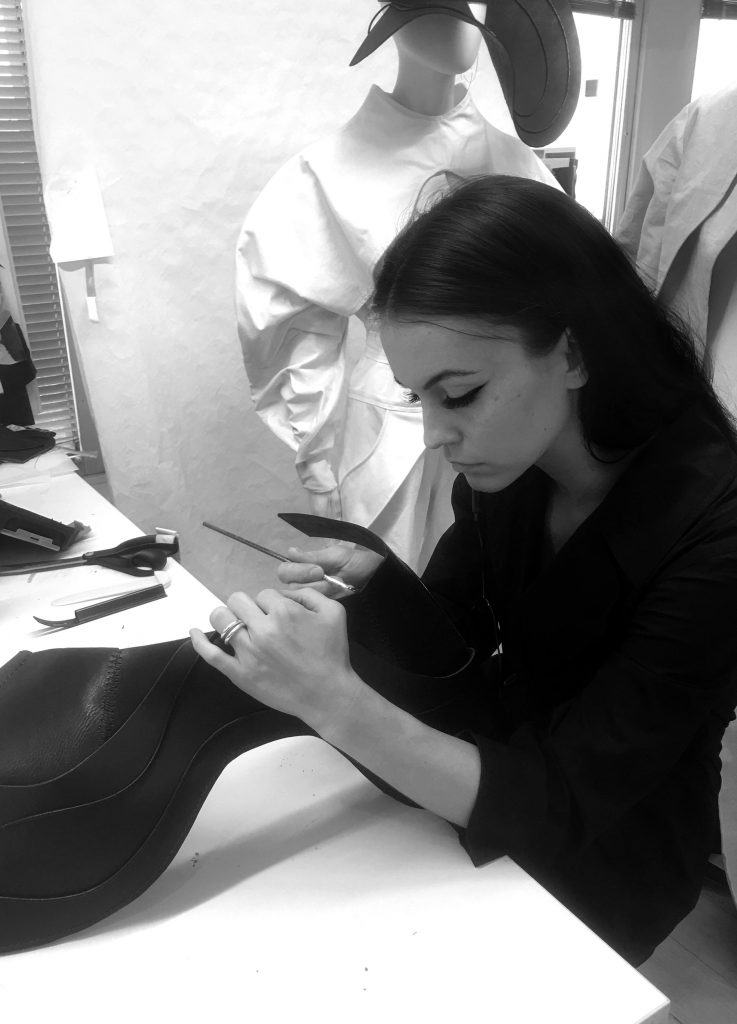 Describe your working process!
— My process always starts with three words; what, why, how. Going through these helps me to understand and create the concept, materials, colours and strategies. I am very keen to always work qualitative and smart, not letting the pieces I create being damaged by time or stress. Every piece gets the time it needs and deserves.
Which part of your process is the most important one and why?
— All stages are important to create the best possible result in the end. I would say that the material sourcing stage is maybe the most important, because the materials sets the framework for me and it tells me what boundaries and possibilities I have to create. You work with hand stitching and hand embroidery mixed with sewing machine.
How would you define your design?
— Semi-couture would be an appropriate definition, I think. I see myself as a creator of clever, conscious, craftmanship. I prefer to call it the new luxury where the assortment is a mix of avantgarde and high fashion pieces.
How do you choose your material?
— My materials have to be possible to sculpt with. I work a lot with waste material from factories, folklore organic cotton ribbons that makes it possible for me to work with zero-waste techniques.
What does your daily life look like?
— It is a mix of many different projects and jobs. At the moment I work for a fashion brand in Sweden, with my own projects as well as in retail. The mix allows me to collect much experience in a very short time. I am constantly working, which sometimes make me question the choice of career and industry, but I always comes back to the conclusion that I love my job and see myself as made for this. It is a scary and wonderful feeling.
You are very productive, where do you get your energy?
— I get energy from the idea that I want to contribute and make a change for the fashion industry. And I strongly believe that I have a unique idea and mindset that makes me proud and excited. I believe it is important with family and friends, which I unfortunately do not see much because of the amount of work I do. But the little time I get with them gives me a lot of energy.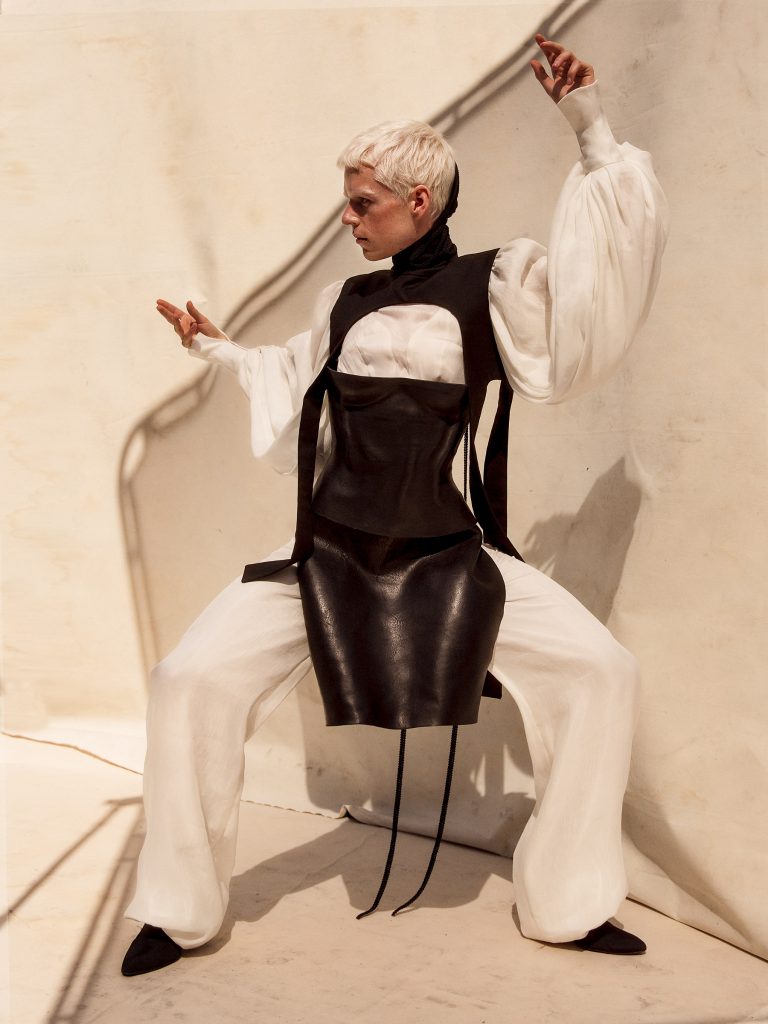 Which is usually the best moment of the day? And the most boring?
— The best moment is when I come home and know that I can relax, lay down in the sofa, watch a documentary and collect inspiration – charge my batteries! The most boring moment is when I sometimes have to work late so I don't have time to be with my family. That makes me kind of sad, so I really try to have a sustainable and smart work schedule each day.
What does a perfect Monday look like for you?
— Working on a beautiful piece, having time to reflect and make the best possible result with sewing and finishing and of course, to make it home in time to make a really nice dinner and watch a movie together with my love.
What does the Swedish nature mean to you?
— It means a lot actually. Since I was a child, me and my family went to our holiday cottage in the forest in Östergötland. It is a wonderful place for walks and swims in the beautiful Swedish nature, a place to really relax and breathe some fresh air.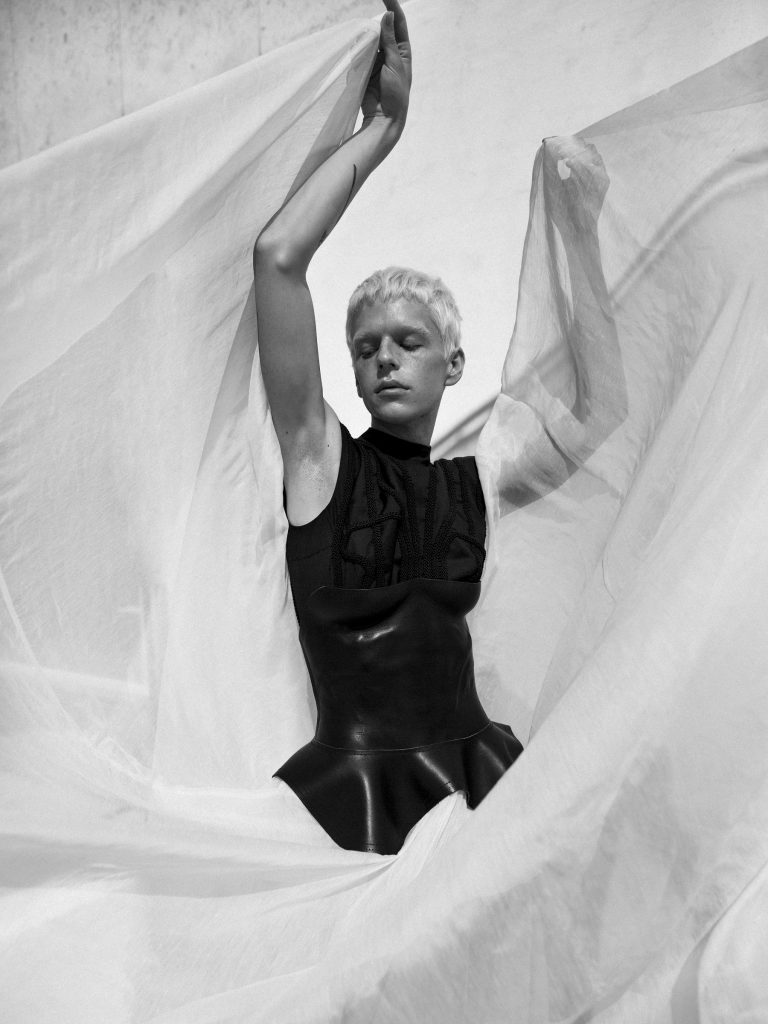 What is your relationship to Swedish Lapland?
— Unfortunately, I do not have a close relationship to Lapland. I haven't visited more than once or twice so far. But the times I have been there it has really caught my heart, so I will definitely go back in the future. Maybe for an inspirational trip!
What inspires you?
— Art, sculpture and architecture. I love to keep my eyes on things I don't do myself in a way. To not look at other fashion designers keeps a more artistic mindset I believe.
How would you describe your own style?
— Simple, black and suited.
Your favourite look?
— Black tailored trousers with a t-shirt or a bustier.
How do you combine your outfits with accessories?
— I am very fond of big earrings to a simple outfit. A bag is also a common accessory for me, preferably my own designs. Simple outfit often need a more extreme accessory.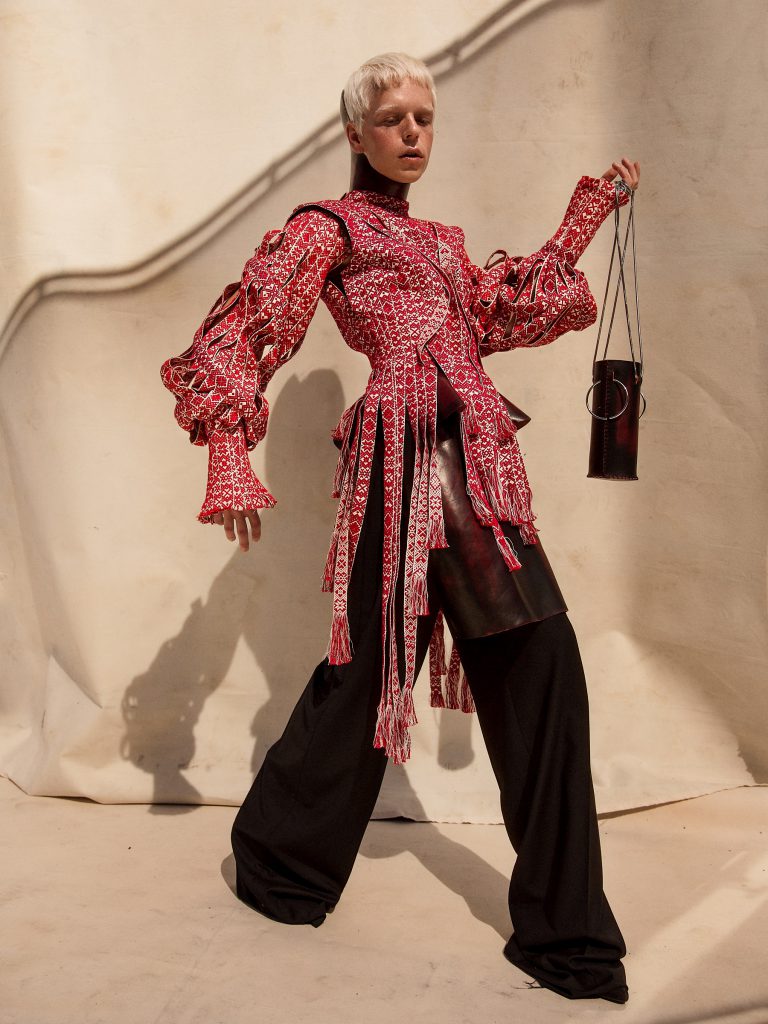 Tell us about your next project!
— I am launching a small collection in the beginning of 2019, which I am working on right now. After that we will see what happens. I have some plans but I actually have to keep them for myself. But overall I am working on my personal brand, developing smart strategies and plans for the future. Really excited!
Where are you in five years?
— I am hopefully in a very happy and exciting place, maybe Sweden, maybe not. The best is yet to come!
Spontaneously, what do you know about acetate?
— Not much at all! I would love to learn more about it.
How many pairs of sunglasses do you have?
— Actually, only one pair. And I have had them for quite some years now, so I need an update.
Your favourite frames from akenberg?
— I feel strongly for Kallax and its sporty yet elegant lines. The frame really fits my simple, strong and feminine style.