Akenberg meets
Lisa Bergstrand
Uncompromising fashion. Founded with the Swedish principles of resourcefulness, resilience and respect for nature, the designer Lisa Bergstrand behind A New Sweden is now challenging the whole fashion industry with her timeless sustainable garments.
Born and raised in a small village outside of Piteå, in the northernmost part of Sweden. Lisa was already as a child aware of the importance of having a sustainable lifestyle. The rural surroundings also forced her to be creative. No surprise then, that she ended up in the fashion industry. After studies in design, textile and construction, she has worked for some of the world's most influential fashion brands as well as small start-ups.
But after a few years, she could no longer turn a blind eye to the industry's environmental impact and lack of sustainable production that most brands showed. So, she decided to go her own way.
Since launching her own brand A New Sweden together with Anthony Lui in 2017, she has challenged thew whole fashion industry by building a completely transparent production chain, proving that you can produce clothes locally out of natural fabrics without having to compromise on style: Seasonless collections with garments made of Swedish wool that are classic yet modern, unisex, and can be worn years after years.
– I never really wanted to start my own brand but I did it mainly because I saw it being necessary. After working more than fifteen years in the fashion industry, I had seen first-hand how bad the industry could be. When companies then started to claim that they were sustainable, even though they mainly use plastic materials and produce garments on the other side of the world, I wanted to prove that it was possible to make truly sustainable clothes. I started with identifying what sustainability actually meant to me, and decided that it meant using natural materials found locally and producing as locally as possible.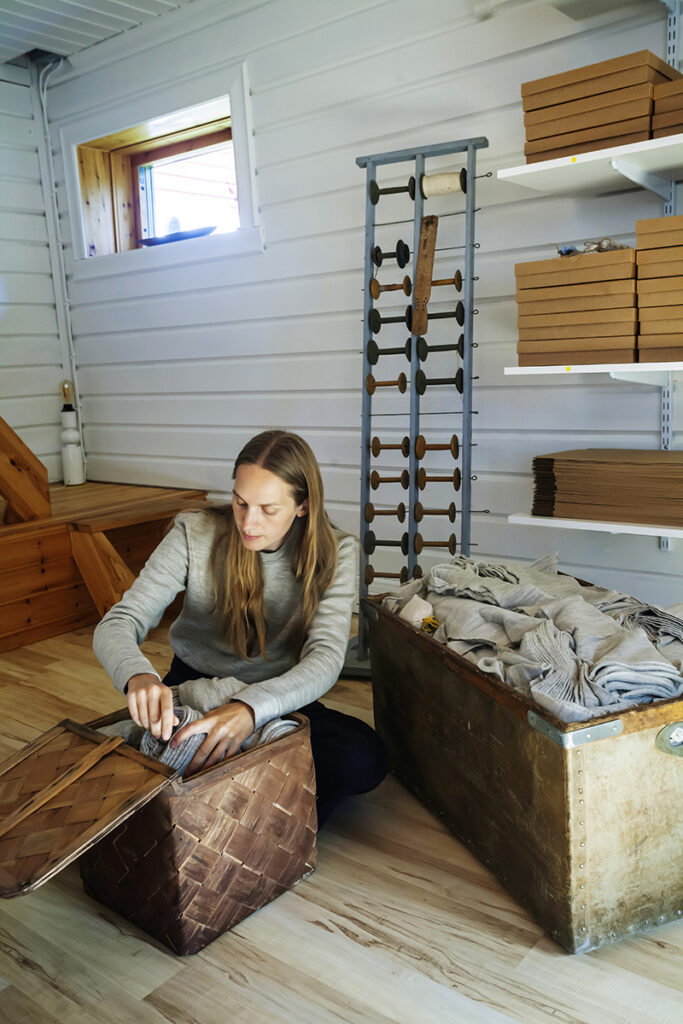 Tell us about your approach to design and in particular sustainable fashion!
– As a designer, you are responsible for the product you design, that it will have a fit that is as good as possible, that it will last as long as possible and that it will do as little harm to nature as possible. And of course, that it will be as appealing as possible. Creating sustainable items does not mean that you have to compromise on style.
What are your hopes for the future when it comes to sustainability in the fashion industry?
– I think we are in a big shift right now when all companies need to rethink the way they produce clothing. Unfortunately, I think it's going way too slow. I am upset that big companies keep using a lot of plastic fossil fuel-based materials and still call their collections sustainable, I hope this will not be possible in the future. As transparency and traceability becomes more and more important, I think it will force companies to know the origin of every piece of clothing, hopefully down to the sewing thread and trims, which in time will raise the prices on clothes. Higher quality and higher prices are a must for the future of fashion, cause when you can buy a dress that is cheaper than your lunch, of course you won't understand all the work and resources used to make it. We need to make and consume fewer and better made clothes in the future.
Describe your design method and process!
– I find a lot of inspiration to create in nature. Shapes and silhouettes can also be inspired by architecture and art. I like to go back and look at classic garments that has been used during decades and are still used. Since we only offer timeless pieces, it's important that they are not too trendy or edgy so they can be worn year after year. It might seem a bit boring from a designer's perspective but it's actually a very interesting challenge since it means really perfecting the design and fit. Another challenge is finding trims that are all natural and still look good. Working with vintage pieces is something I'm used to since my time at Saint Laurent, and it's a very good way to start the design process since the fabric, making and fit can be studied closely.
Which part of your process is the most important one and why?
– The choice of material can determine the garments environmental impact as much as 85 percent. With A New Sweden, we always start with the material rather than the garment. Different types of wool have different properties and should be used in different ways. We want to show what wool from different Swedish sheep breads can become, so depending on the wool we then design the garments.
Favourite material to work with?
– Wool! I have learned so much about wool since I started that I did not know before. How wool is naturally antibacterial, how it helps regulate your body temperature, how it doesn't attract dirt or smell. That means that wool garments don't need to be washed often, it's better to just air them out, which of course saves lots of energy. Wool clothes can even keep you warm when they are wet! So many synthetic materials try to achieve these amazing properties but none come even close. Why try to invent new materials when something as amazing as wool already exists?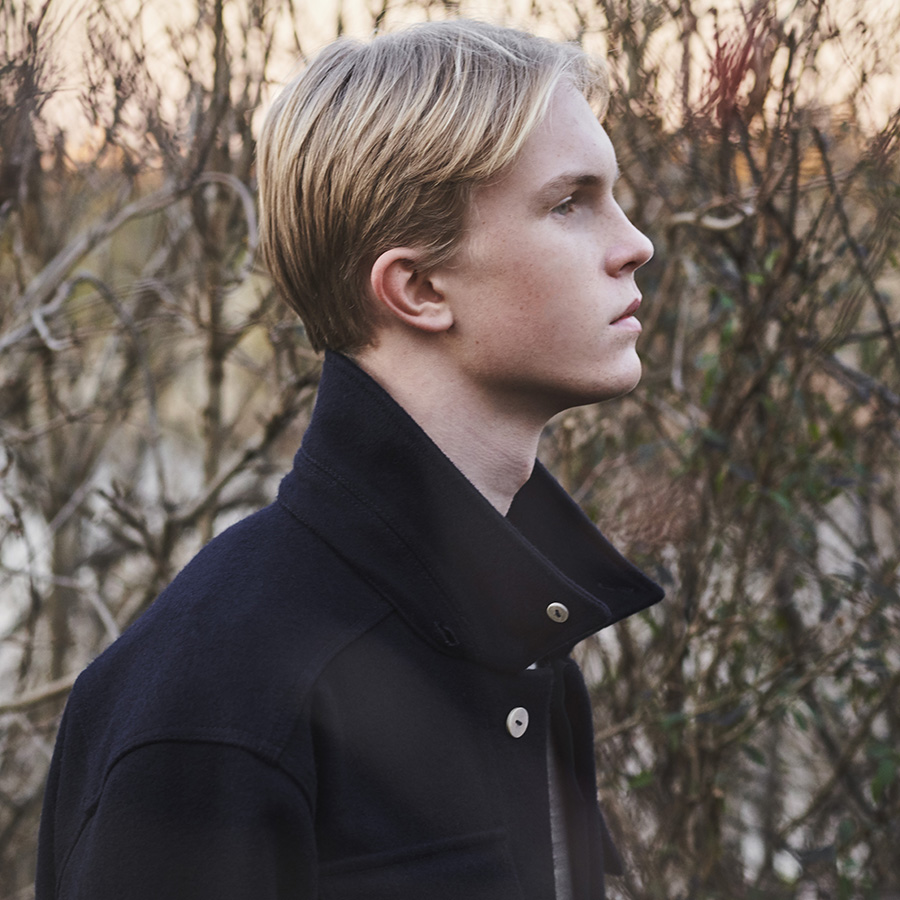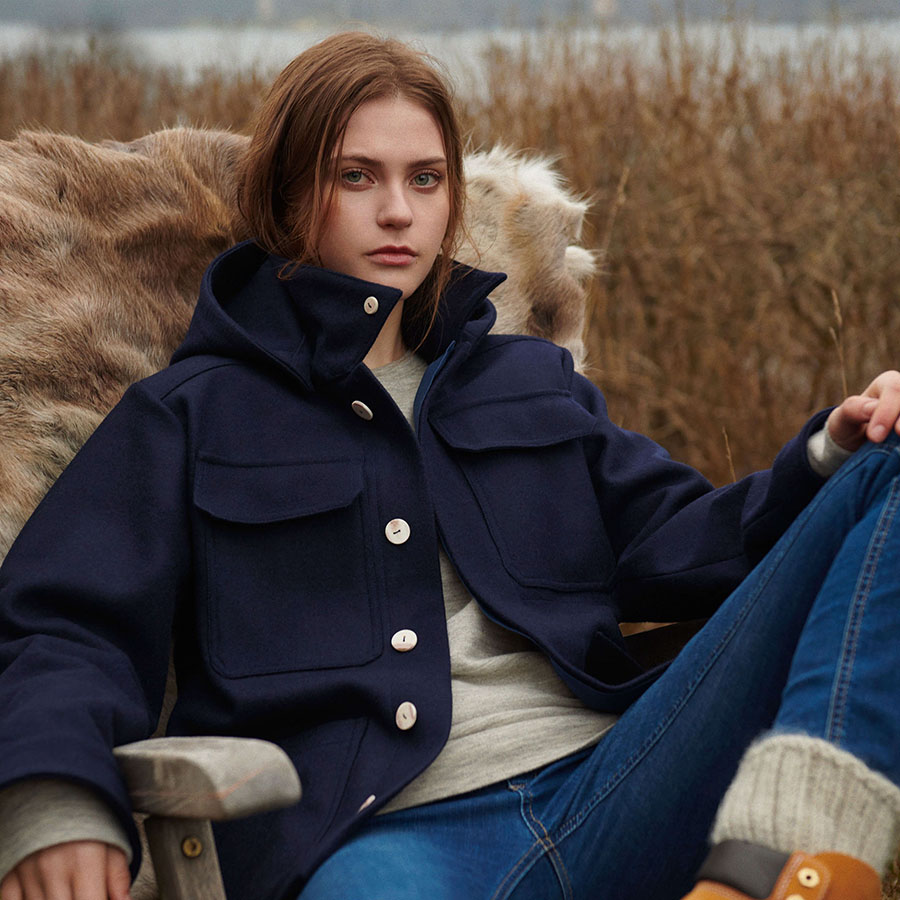 If we rewind a bit, how come you started out in the fashion industry in the first place?
– I always wanted to work with something creative, and I was sewing some of my own clothes but wanted to learn more. At first, I did a basic textile education within weaving, printing and pattern making and I really liked it. Then I studied pattern making and design at Tillskärarakademin, and later went on to study Fashion Design in Milan and Paris.
You've worked for high-end brands like Saint Laurent, Givenchy and Céline. The highlight of your career so far?
– I would say that the highlight is that I have had the opportunity to see different parts of the fashion industry. It might sound glamorous to work for Saint Laurent in Paris and fly to Los Angeles for meetings, but the truth is that it was a lot of hard work. There is a lot of work behind every brand, whether it is working for luxury brands or startups. Seeing the different sides has taught me so much.
Last year, you were rewarded the Swedish Design Awards 2020 in the category Fashion & Accessories. What does recognitions like that that mean do you?
– It was a very important recognition, that a garment that may seem very simple can win the category of fashion in the most respective design competition in Sweden. Our Jämtland sweatshirt that won is made in Sweden of Swedish wool, and a part of the jury's reason for it to win is the way that it is made. This can only demonstrate that sustainability is actually becoming a very important part of fashion already. We are so happy and honoured that we won!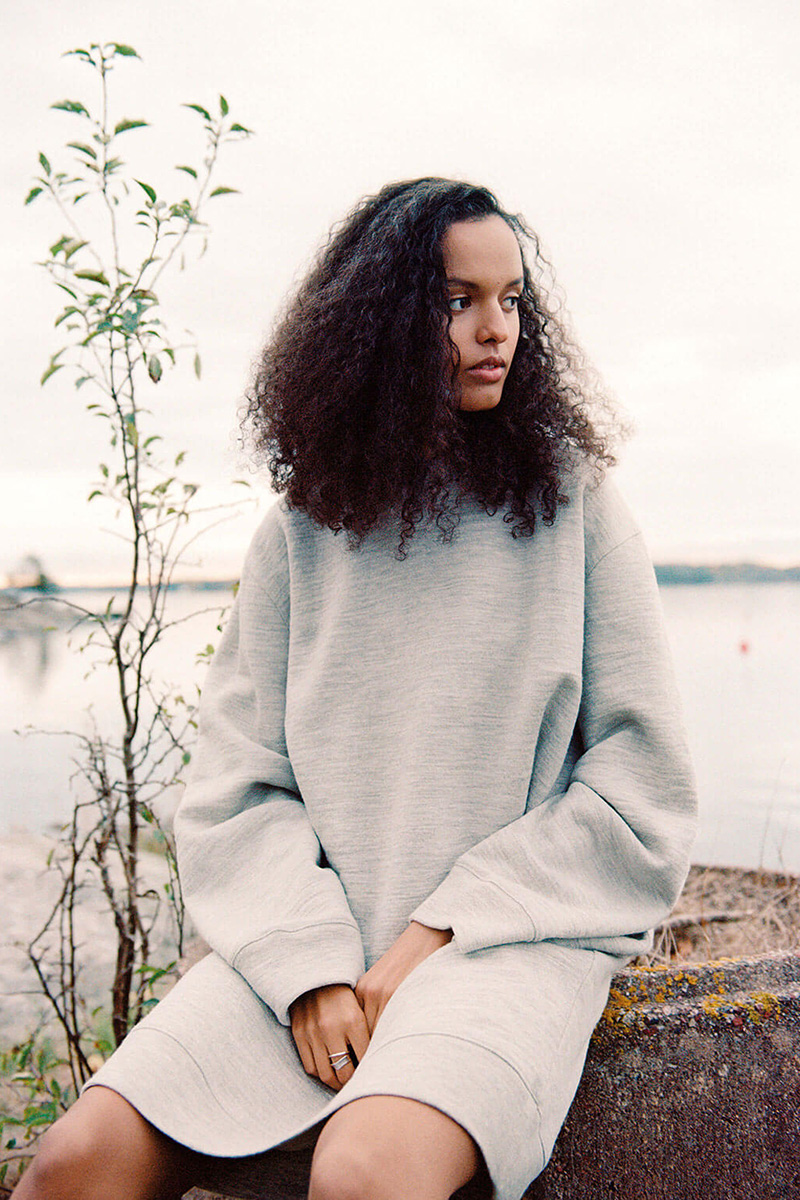 What does your daily life look like?
– Right now, I am very busy with a 3-month-old baby, and a 2,5-year-old child that is at home due to the kindergarten being closed because of corona – while trying to find time to run my company. I would say I am very lucky to have an amazing family and a challenging but very interesting company to run, with lots of potential. Most of my work I do when the children are sleeping.
You are very productive; how do you get your energy?
– I started and run the company together with my husband Anthony. He gives me a lot of energy and often see things from a different perspective and that helps me a lot. I have also met so many wonderful people since I started working on our brand, from sheep farmers to PR experts, and they all give me a lot of energy to bring this company forward. I also do some consultancy work for other companies to help them produce more sustainably. There, I also meet many people who inspire me. And I'm driven by the fact that the fashion industry has to change; it is one of the top polluting industries in the world, and for the future of our children we need to dramatically change it.
Which is usually the best moment of the day?
– I love the mornings, when you have the whole day ahead of you. It's also when the air is very fresh and the light is beautiful – perfect time to go out for a walk or a run. And the morning coffee is the best.
And the most boring?
– My days are too busy to be boring!
Which Instagram profiles do you follow?
– @c_l_, @simplicitycity and @diet_prada.
To get new inspiration you need to see the world and meet new cultures. Any unforgettable places you've travelled to in the past years?
– My husband is from Australia so we travel there every second year. Last year we stopped in Hong Kong on the way there. I have visited Hong Kong many times for work before, but this time it was different since my husband has family there, and the pro-democracy protests were going on. It was very inspiring to see everyone, young and old, come together and stand up for democracy. Exactly five years ago I visited a friend in Mexico. That was also very inspiring and different to see both the countryside and Mexico City. Japan is also a favourite; Tokyo and Kyoto.
You are currently based in Berlin – why and in what way is it different than working in the northern part of Sweden where you come from?
– Berlin is a good mix between Paris, where I lived for eight years, and northern Sweden. It has a lot of nature with parks, lakes and forests, and is a very big and spread-out city on the surface. Under these circumstances, with the on-going corona pandemic, you lack a lot of the good things big cities has to offer, like museums and restaurants. So, for that reason, I do wish that I was at home instead. But for sure we can get better take away food in Berlin compared to north of Sweden.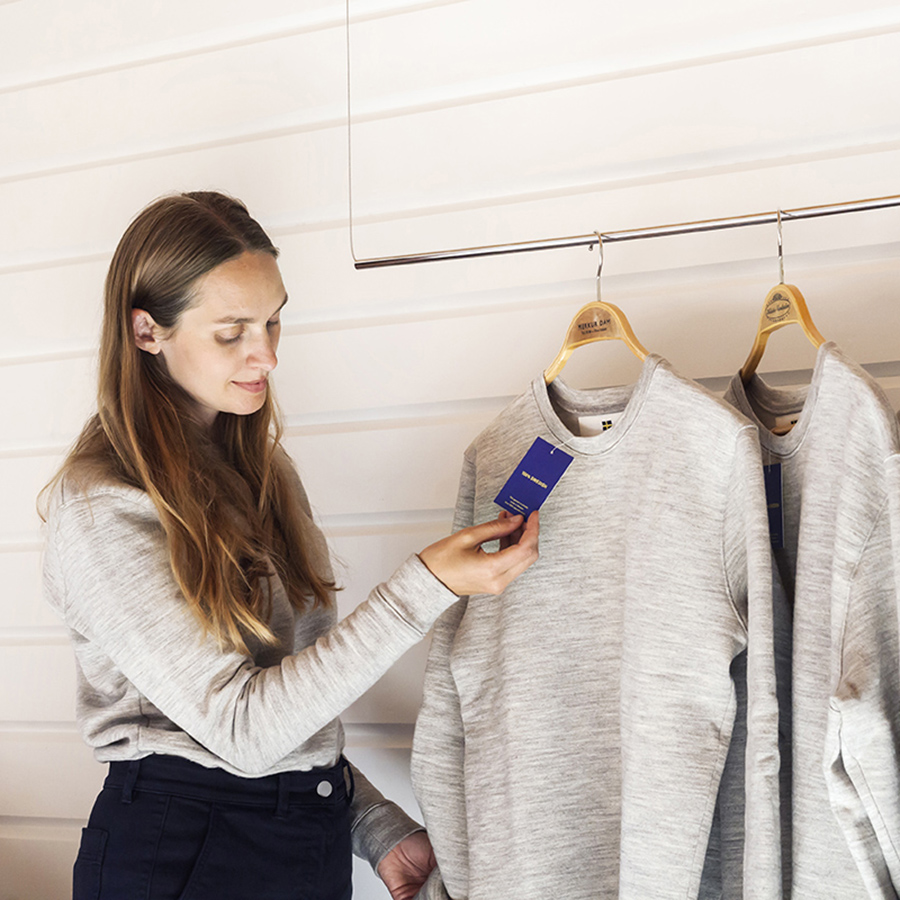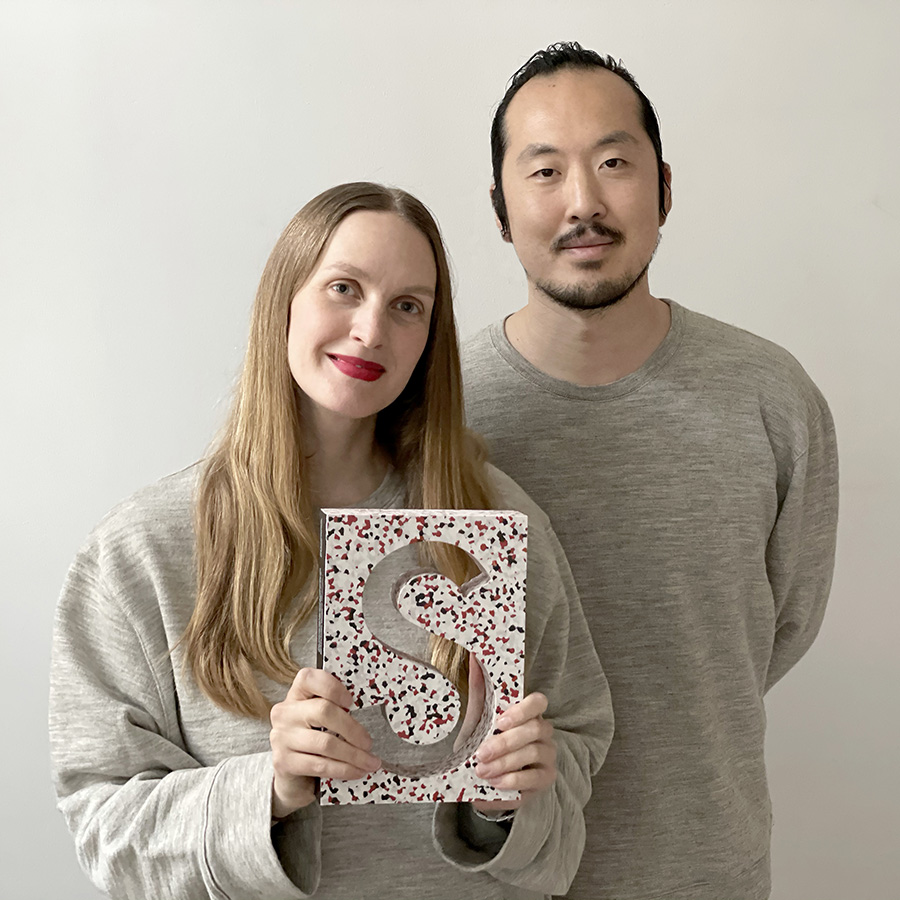 If you didn't live in Berlin, in what city would you live?
– Berlin is temporary because of my husband's work, and we plan to live between Stockholm and Norrbotten this spring. But there are many cities I'd love to try, like Melbourne, where my husband comes from, and Porto in Portugal. I love Italy and would not mind living there also.
What's on the agenda for you and A New Sweden 2021, and where are you in five years?
– Right now, we are working on tightening our concept and speaking to investors as we plan on taking some investment. I have so many ideas of garments that I would love to produce but we need more funds to expand. In five years, I hope that we are able to buy all Swedish wool that can be used for clothing, and make many more garments. Maybe also some interior pieces. And I also hope that in five years from now, more people consider what materials they are wearing, and where and how their clothes were produced.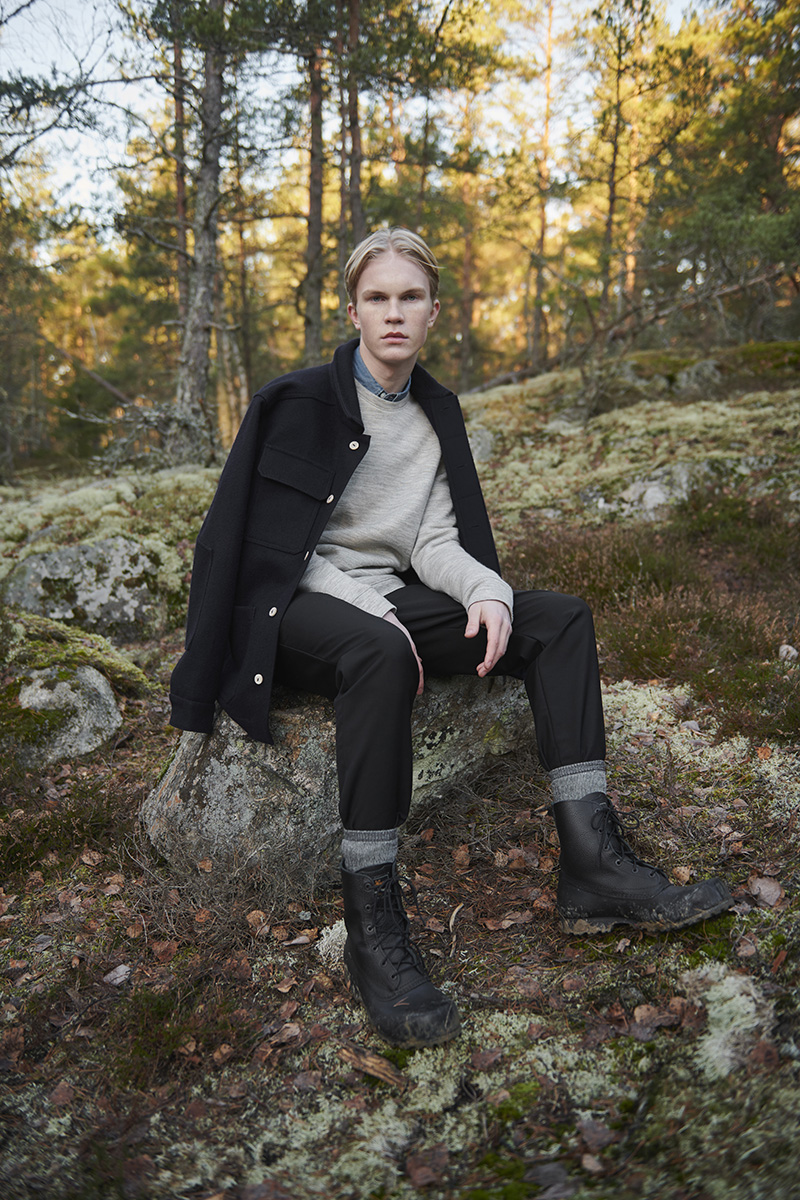 How would you describe you own style?
– I like menswear and classic clothing. I have a lot of vintage garments with great quality and prefer natural materials like wool and cotton. The boyfriend-look is my favourite look, and I like to style a simple outfit wearing blue jeans and an oversized white shirt with bright red lipstick. I like accessories of strong colors as a colour-touch to a natural outfit.
Your personal style signifiers?
– Vintage Levis 501 and long hair.
 The last item of clothing you added to your wardrobe?
– A used wool winter coat with a belt that fits my 3-month-old baby in a carrier under it.
Favourite fashion designer?
– Lemaire.
Who are the style icons that inspires you?
– Caroline Bessette Kennedy.
What does the Swedish nature mean to you?
– Everything! I grew up on the countryside close to the forest and as a child I spent a lot of time outside. Sweden is such an oblong country and offer truly different amazing landscapes, from the boreal forest to the rocks on the island of Gotland, or plain fields of the south. I find the Swedish nature very inspiring creatively and also a beautiful place to find energy and calm.
What is your relationship to Swedish Lapland?
– Lapland and the north of Sweden is home to me and will always be the place that I refer to as home, no matter where I would live in the world.
What inspires you?
– I always loved visiting the suppliers and factories, I find that very inspiring. I have worked for many different types of companies, from luxury to small startup brands, so I have seen many different ways of working and producing. One truly inspiring experience was to visit a Fair Trade-factory in Bangladesh and see how they are working. That gave me hope that even in Bangladesh clothes can be made in a good way, where the workers are happy and women are empowered.
Spontaneously, what do you know about cellulose acetate?
– It's the most versatile environmentally friendly material of high-quality sunglasses, as well as the material that sustainable pioneer Stella McCartney use for her eyewear. I would describe it as the "Tencel of Sunglasses", also made from cellulose.
Your favourite frame from Akenberg?
– Skaulo for sure. It's a classic style and I love the description of the village Skaulo on your website. In the colourway Natural leather + Unpolished silver, I think they have a very personal touch to the classic frame. They can be worn with many different outfits, being timeless but still adding a very modern look.