Akenberg meets
Lotta Lampa
Her intuitive way of working creates a direct yet carefully shaped aesthetics. Lotta Lampa has earned accolades for her everyway use objects and art. After graduating from Beckmans Design College in Stockholm, followed by studies at the International Design Academy by Luxury Living Group in Forli, Italy, she has settled down in her home town of Kalix in the north of Sweden, where she explores both postmodernism and the Swedish subculture "raggare". No matter what material she chooses to work with, there is always a playfulness in the bold shapes and colours.
– I was always encouraged by my parents to paint and sketch. Me and my siblings were always given paint brushes, paint and artist material for presents and Christmas gifts. Everyone in my family is creative in different ways today, so I would definitely say that my upbringing has influenced my career choice. Although I dreamt of becoming a professional football player, and had football as my top priority until the age of 25, when a knee injury stopped me from continuing, I chose to invest in my arts and crafts career.
What projects are you involved in right now?
– I have recently created a new collection of vases, candlesticks and mirrors for Grandpa's Artsy Window, showcased at their store on Södermalm in Stockholm, as well as in their web shop. In Uppsala, I am participating at an art exhibition online at Köttinspektionen. This is a real dream exhibition, where I get to show two of my art work next to Frida Kahlo! I am also recording a new tv-series for Swedish Television about the history behind design objects that will be broadcast this fall.
Describe your working process!
– It can start with an emotion, a specific word, a shape; I sketch quickly and large, preferably directly in the material. It's all about energy and having fun, so I examine and test my way forward towards the final result.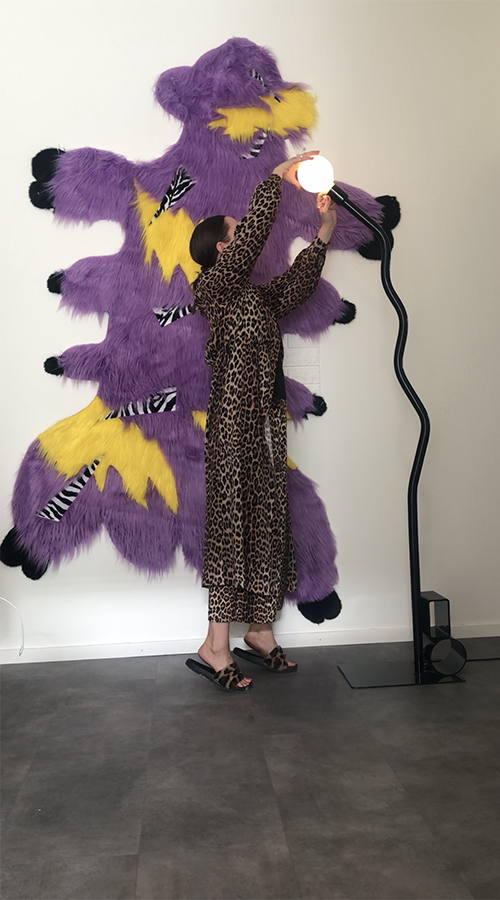 You work multi-disciplinary; which is most fun, interior design, ceramics, art …?
– All projects are equally fun, design objects as well as art. Being able to work with different kinds of material and assignments means that I don't get bored. I am a pretty restless person, and I find new energy in working with different materials and their specific qualities. The most recurrent ones right now are metal, fiberglass and enamel. I also hand-scrub once in a while, which is a nice break with the soft and colourful wool.
You are known for having worked with ice – how is that? How can you control and shape a natural material such as ice?
– Working with ice is very liberating and wonderful. Working and sculpting with large chisels in such a beautiful material like ice is a bit like cutting butter, soft and hard at the same time. It is also challenging to work in larger formats, like the art suites for Icehotel in Jukkasjärvi. I work together with Julia Gamborg Nielsen, a designer and artist from Stockholm, and the inspiration for our third art suite Hydro Smack comes from the world beneath the surface. The suite consists of corals and large organic jellyfish floating up from the floor and surrounding you like you were walking in an underwater forest. We wanted the guests to feel what it is like to lay down at the botton of the ocean looking up towards the surface.
What inspires you?
– The ugly and odd. Patterns, bold colours. Industrial design, garages and fashion.
We know you have a great interest in motor vehicles, especially American vintage cars, as well as football. Tell us about that!
– I love playing football, but my age and body can't take it any longer. I often dream that I play football. The physical and creative aspects in football; there is nothing that beats the kick I get. I have tried to find it in art and design, but have not succeeded yet. It's thanks to my dad that I discovered football. He was my coach for ten years and also drove me to my football practice several hundred miles per week so that I could train with my team. The interest in motor vehicles is also my dad's fault. I grew up in a garage, got my first tools when I was five years old and a motocross bike when I was six. From that, I've spent so many hours in the garage chit-chatting with old guys over coffee, looking at scrap cars, driving moped and vintage street rods. It is also a creative world with renovations and varnishing – incredibly inspiring!
What does your daily life look like?
– No day is the same which I find incredibly liberating. The best way to start the day is with a nice morning walk, then breakfast before I check my e-mails. After that I get going with my designs, depending on what's on the agenda. I also work as a project coordinator at the Resource Centre for Art based in Luleå. At the moment I am involved in co-ordinating art exhibitions with local artists from Norrbotten County to be showcased at Luleå and Kiruna airports, as well as the gallery Foajen in the centre of Luleå.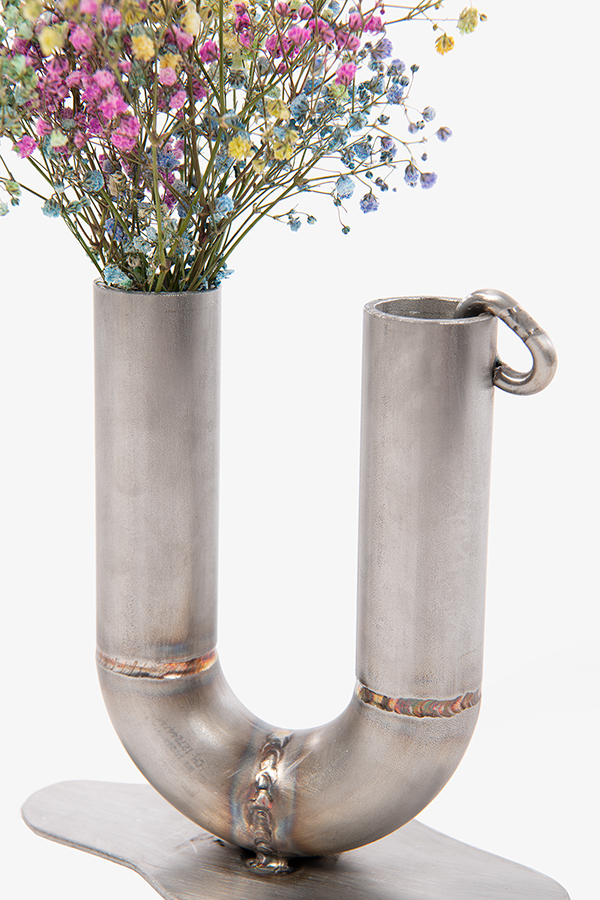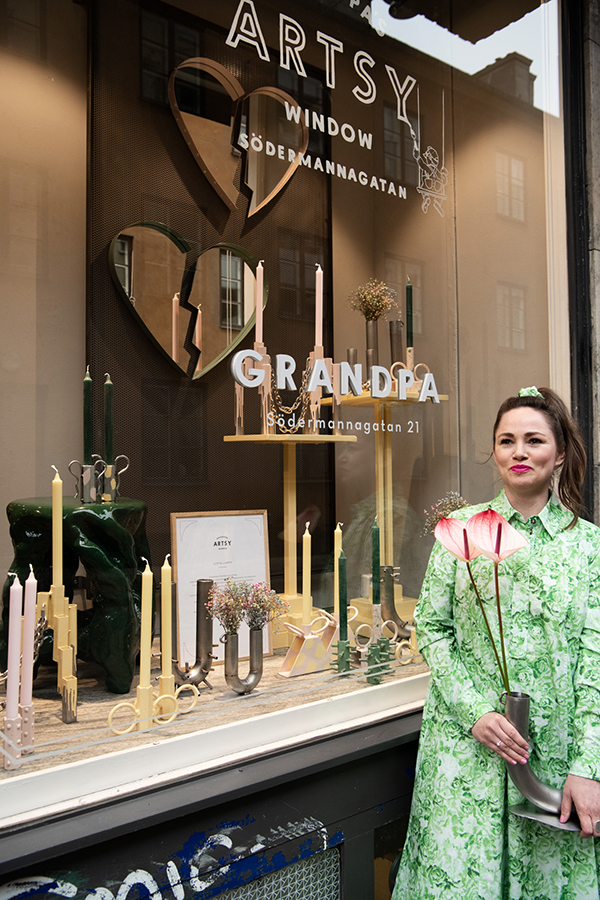 You are very productive, where do you get your energy?
– I enjoy life when a lot of things happen at the same time. At the same time, I need peace and quiet, and to sleep a lot. Getting in a car – a vintage street rod during summer – and just drive around gives me energy and makes me calm. There can be many hundred miles a year on the road. It gives time for introspection and reflection.
Yes, travelling is a great way to get new inspiration. An unforgettable place you've travelled to in the past year?
– The Swedish island Gotland! I love the nature, the climate and our house on the island, a creative renovation project that never ends. And Italy is the country I always return to. You can never ever get to much of the culture, the food and the atmosphere.
Tell us about your next project!
– My goal is to work with a glassblower after the summer and create a collection of vases in glass inspired by the Swedish subculture "raggare". In October, I have an exhibition at the Swedish Embassy in Oslo coming up, arranged by Arctic Design Of Sweden, where I will show a floor lamp, a ceiling lamp as well as a hand tufted carpet inspired by flames.
What is your view on sustainability?
– Working with sustainable design, from idea to finished product is very important. Today, I work locally, small-scale and by hand with mostly unique design objects. The production is done by hand in close collaboration with my father and brother who work with vintage cars back home in Kalix. A sustainable handicraft where the origin, cooperation and the community are important and highly valued.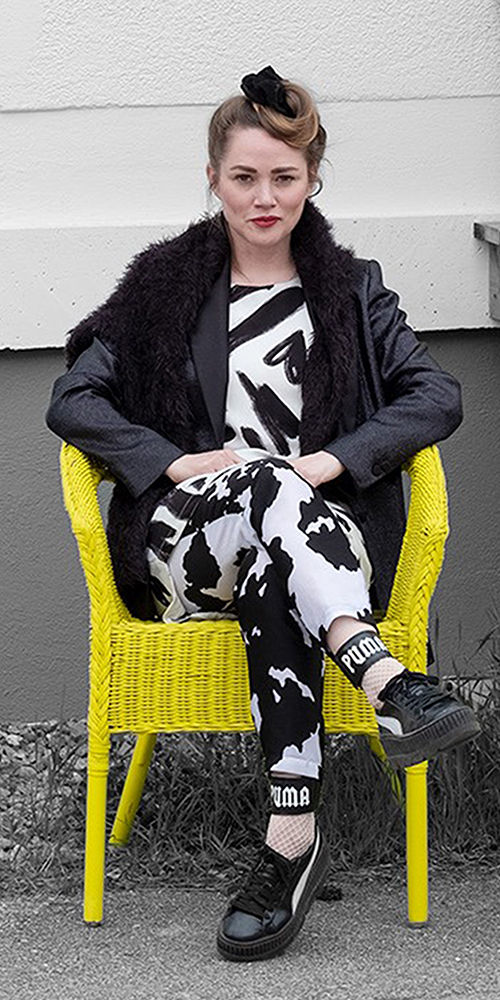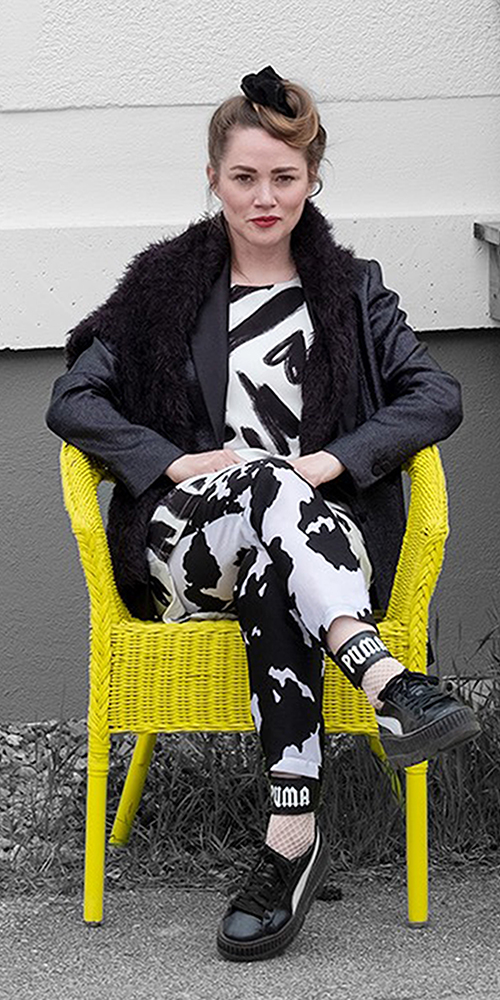 You have a great personal style. What's the last item of clothing you added to your wardrobe?
– I try to shop second hand as much as possible. Recently, I found a brand-new faux fur coat in a Klein blue, orange and pink pattern on a brown bottom. Insanely cool, but my Mum thinks it's hideous. Unfortunately, I will have to wait for colder days until I can wear it.
Favourite fashion designer?
–  I like Danish design such as Ganni who always present really strong collections, playful with a lot of colours and patterns that appeals to me.
Who are the style icons that inspires you?
– Linn Eklund, a young Swedish woman who mixes patterns, contrasts, volume and colour. She is totally fearless in her style, and doesn't bother at all about what others might think.
How do you combine your outfits with accessories?
– Silver, many rings and a few necklaces. Beanie or a cap! I love to wear headgear. Sunglasses are of course incredibly important for an outfit; I would say they make the look stand out. I have several pairs that I switch between depending on my mood. I like a bit bigger models, not only because they have a bold expression – especially in combination with a bright lipstick – but also because it is an easy way to "hide" if you're not feeling 100 percent.
Your favourite look?
– A lot of lipstick, mixed patterns, black and white, animal print like zebra, leopard and snake. My style is eclectic! The shoes have to be comfortable, preferably with platform soles and many details.
What does the Swedish nature mean to you?
– I love the nature; it means a lot to me. A soothing place that transmits inspiration to life at large. Every season has its charm, colours and shapes. Having had the chance to grow up by the Kalix River, and being able to take the boat out, or go water skiing on the river at sunset is the best therapy. Today, having access to both Gotland and Norrbotten's nature is a luxury. I enjoy the contrasts of living on an island surrounded by the ocean, compared to driving a car in the inlands of Lapland with magical views of the mountains.
What is your relationship to Swedish Lapland?
– It's home, and where I have my heart! The vastness, the silence, the light …
Spontaneously, what do you know about cellulose acetate? 
– I don't know that much, but I believe that there is an acetate that smells like Hubba Bubba! I often work with waste material, often strange left-over metal parts that I find, or odd materials that people give to me. Acetate is a material I definitely have to learn more about! It seems like an exciting material that I can incorporate in my art.
Your favourite frame from Akenberg?
– I like the Jokkfall model with its retro feeling. It is nicely speckled with gradient lenses that I really love.