Akenberg meets
Paola Suhonen
For more than two decades has the name Ivana Helsinki aroused admiration and insatiable desire of many fashionistas. Paola Ivana Suhonen, the designer behind the Finnish label, dress up the coolest women in the world with her bold dresses in playful prints.
But there is so much more to this Finnish brand than fashion pieces. Together with film and music they form a complete visual universe, where the vision of the very creative Paola, takes you to the moon and back – or on a road trip to capturing new memories and careless moments.
– The passion for creating comes from my own experiences. That's why our slogan is "Love stories, road trips and dresses" – and it has to be in that order. There has to be a lot of adventure and time on the road. You can think of it as a metaphor for life itself; you have to experience things and visit places. And you have to have passion for certain topics, while still be serious about the things that you do. Some people consider it to be old-fashioned but I don't agree. I'm not at all interested in trends. I use stories from my childhood, or a memory from a good movie I saw two weeks ago. But all the experiences have to go through my own filter before they can turn into a design.
When did you know you wanted to be a fashion designer?
-– I still don't know! Every day I still think I will be a doctor or work in an office when I get older. One thing just led to another. I've always been into visual things and I have quite a strict aesthetic, but I'm not really into fashion. I'm more interested in music or film or art, so I consider myself an artist, where designing fashion is a tool to express myself.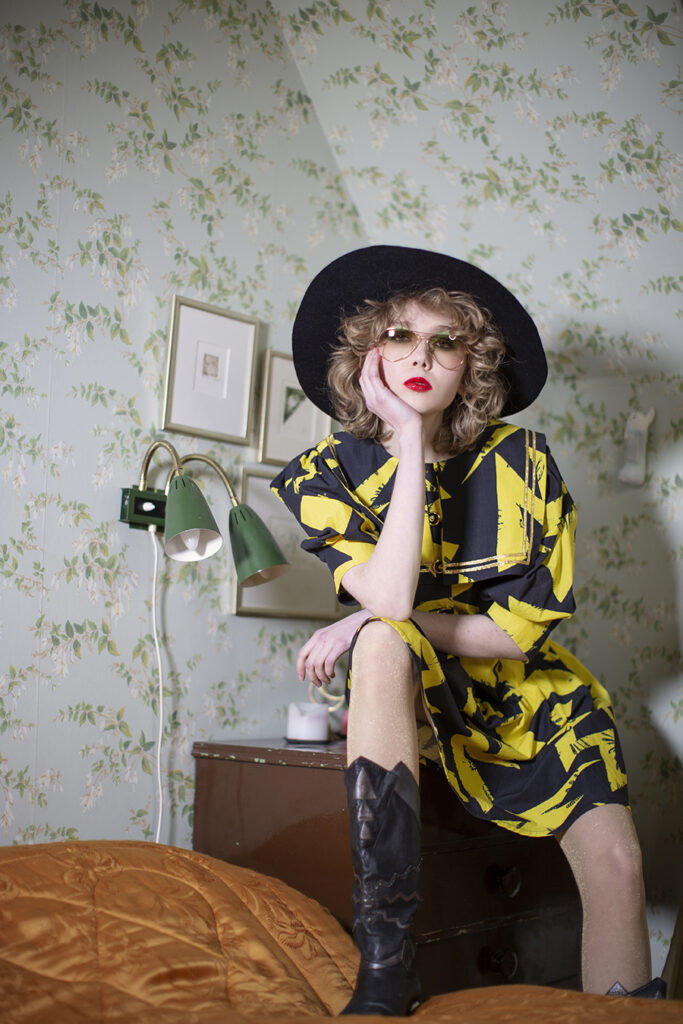 Tell us about your aesthetics!
– There is always a vintage touch to it, and always something Scandinavian. It could be a fabric or a print that can be found in our heritage. But there is also a hint of Slavic culture and Americana. That's why there are always printed dresses in my collections. To me, the prints are really the key. They are half the design. That's why we always make our own prints as well as all the fabrics ourselves. It is like being an artist that starts with a white canvas. I can consider my creations as pieces of art.
What has been the inspiration behind your AW21 collection?
– My new collection is called Flashes Vol. 4, and the inspiration behind it comes from a childhood memory and of the magical light phenomenon aurora borealis lighting up the skies. My grandparents' neighbour had a specific rolling fire ball that went from one end of the room to another. I had heard the story as a kid and started to recreate it. I liked the idea of this folkloristic myth, and I also like flashes in general, often used in pop culture to symbolize independence and strength. That's typical for me, to combine a folkloristic saga and add a contemporary or pop culture element. An edge there from modern times.
What does your working process look like?
– I always create from my own inspirational world. My process starts from a spark of inspiration, it could be a memory or a story that evokes my interest. That's the core of the work. Then I decide what element symbolises or reflects the story. For instance, flashes. With that I make the prints and the fabrics before I start designing the actual shapes. I love the fabric and print design, but then also seeing the work come to life and making sure that the dresses are wearable and functional, not only beautiful. In my other job as a cinematographer, I love the part when the story comes together in the end, when I close the loop with images and shooting the fashion film.
That's right, Ivana Helsinki is not just a fashion brand, rather a creative world and you work multi-disciplinary. Which is most fun, fashion, art, utility design, video …?
– It's hard to say! It's like saying which of your kids you like the best. But the dresses are one key thing and also the films. I am just about to finish my second narrative feature film called "Men under the midnight sun", which will be out in the movies sometime next year. So, Ivana Helsinki is rather a creative house, or design studio, with a 360 degree take on music, cinema and fashion. And we actually also have our own music festival that we arrange every year, Superwood, that has become very popular.
Is that important to you, to complete the full vision of a new collection by making your own short movies.?
– Yes, it's vital. If I would hire anyone to tke the images or filming, then I wouldn't feel that I have completed the full circle. My creative process is 360 starting with the inspiration and first ideas to finish it with a movie. I have to be involved in the whole process.
You are also a member of the folkrock band Lone Deer Laredo, being one of the songwriters. How did that come about?
– That s one other project but still part of the whole package. Music has been in my life since childhood. I used to play the violin and took piano lessons and went to a music-oriented school. I always felt that music is one way of expressing myself. When I moved to the US in 2008 for a few years, I bought a new guitar and decided to take it a little bit more seriously. Then I took drumming lessons and played the drums, adding a new instrument to the pallet. But writing and composing the music is closer to me than playing an instrument. Lone Deer Laredo was formed in 2016, and right now we are prepping our next album. If all goes well it should come out in January, so that's exciting.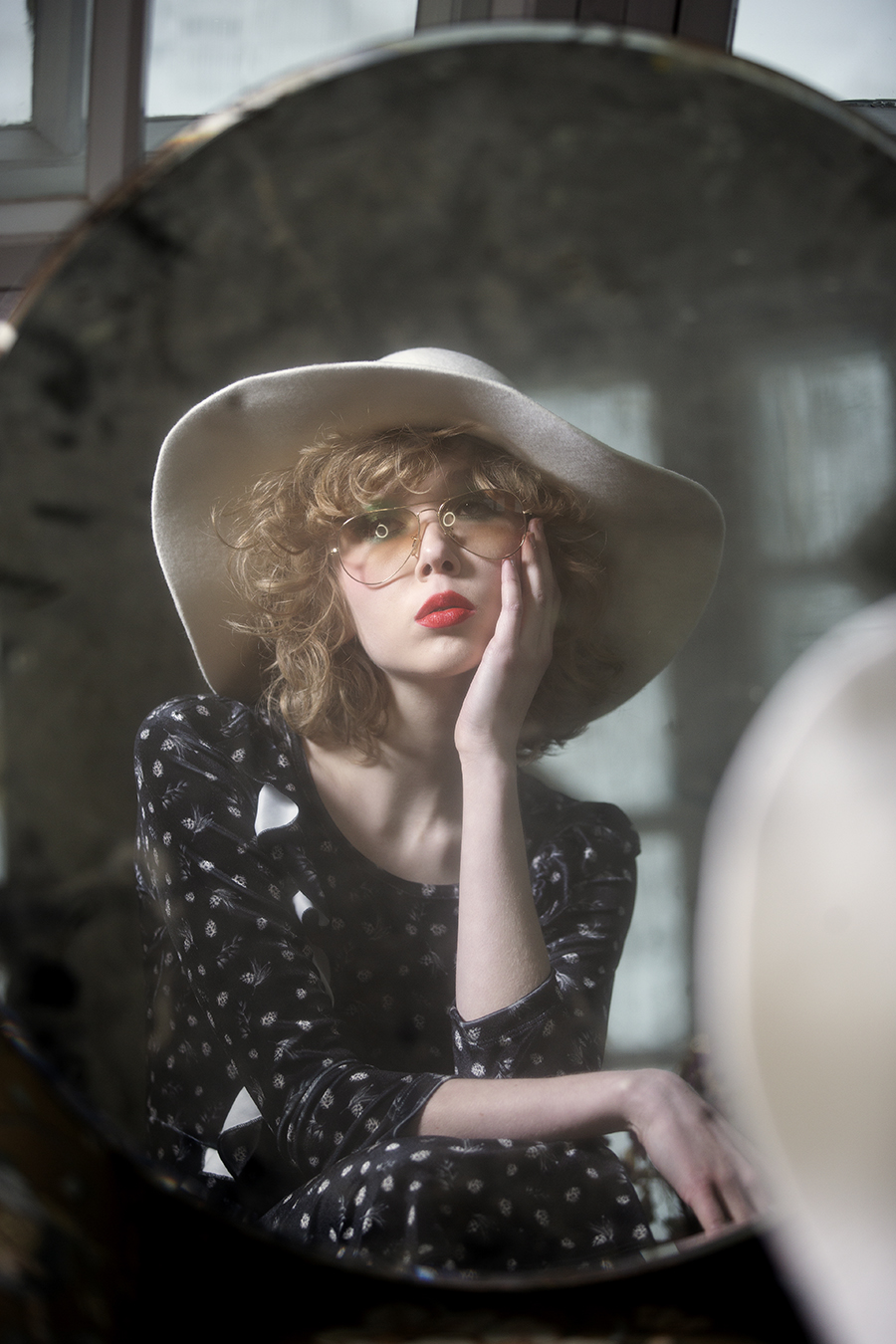 What does your daily life look like?
– There isn't any "regular day", it all depends on the project I'm working on. We have a house and a studio in the eastern part of Helsinki, close to the sea. It's an old architectural house from the 70's that we bought, and this is where I spend most of my time. I like to have structure, so I usually come here around nine in the morning after dropping off my dog at my parents' house which is close by. I love the early mornings coming to the studio when there is no one else there and I hopefully have an hour or so before anyone else arrives. That is usually the best moment of the day, that and the first morning coffee! My days are quite long – if I leave the studio before eight in the evening I leave early! But that's a life style that I love, and have chosen. I feel privileged that I can live and work like that.
You are very productive, where do you get your energy?
– I like being out in the nature. Sometimes I go hiking in the woods, take long walks with my dog or go on a road trip, which is my favourite spare time thing to do, I've travelled a lot in my life so nowadays I mostly enjoy road tripping. It's the absolute freedom, not necessarily having a destination but just letting your inspiration lead you. Other days I just enjoy staying in and being with my friends or boyfriend.
As you say, to get new inspiration you need to see the world and meet new cultures. An unforgettable place you've travelled to in the past years?
– I've road tripping quite a lot in the States. One really cool place is Redwoods up in Northern California close to Oregon. It is a fantastic place with these really tall trees. Then, as a tip, I would say road tripping in Finland. Just come here and rent a car and start driving up to inlands. The rural parts of Finland are really unexplored and so exotic. People are super-friendly – but weird. It's like being in a David Lynch movie with all the strange characters.
Where do you see yourself in five years?
– I'm very much hoping that I will be doing many more movies and that I have been able to incorporate more music and a more established record label. The core of my brand is fashion, film and music, and we already have those elements but I really hope to be directing more, to give life to the stories. That's my mission.
How would you describe you own style?
– Vintage flavoured, with a hint of the 70s. Rock and roll chic. And of course, my style is all about dresses. I can't remember when I wore jeans or pants the last time.
The last item of clothing you added to your wardrobe?
– A hand-knitted sweater from our new collection. We work with a small group of ladies in Bucharest, Romania, who do handknit for us, I fell in love with their knit work and since then I have to have handicraft in my collections in some way.
Favourite fashion designer?
– Oh, hard question. If I buy some other brand, I like the classic ones like Chanel shoes or an Hermès scarf. Or a vintage YSL. I like to regorge the old collection from the 80s.
Who are the style icons that inspires you?
– I don't follow anything within social media. But the singer and guitarist Jack White is an inspiring person in what he does. I love his attitude and aesthetics. I also inspired by female characters in some of Ingmar Bergman's or Jörn Donner's movies. You know, classic beauties from the 70's.
Your personal style signifiers?
– Rings. I always wear six rings in mixed metals and always on the same fingers. I feel naked without them.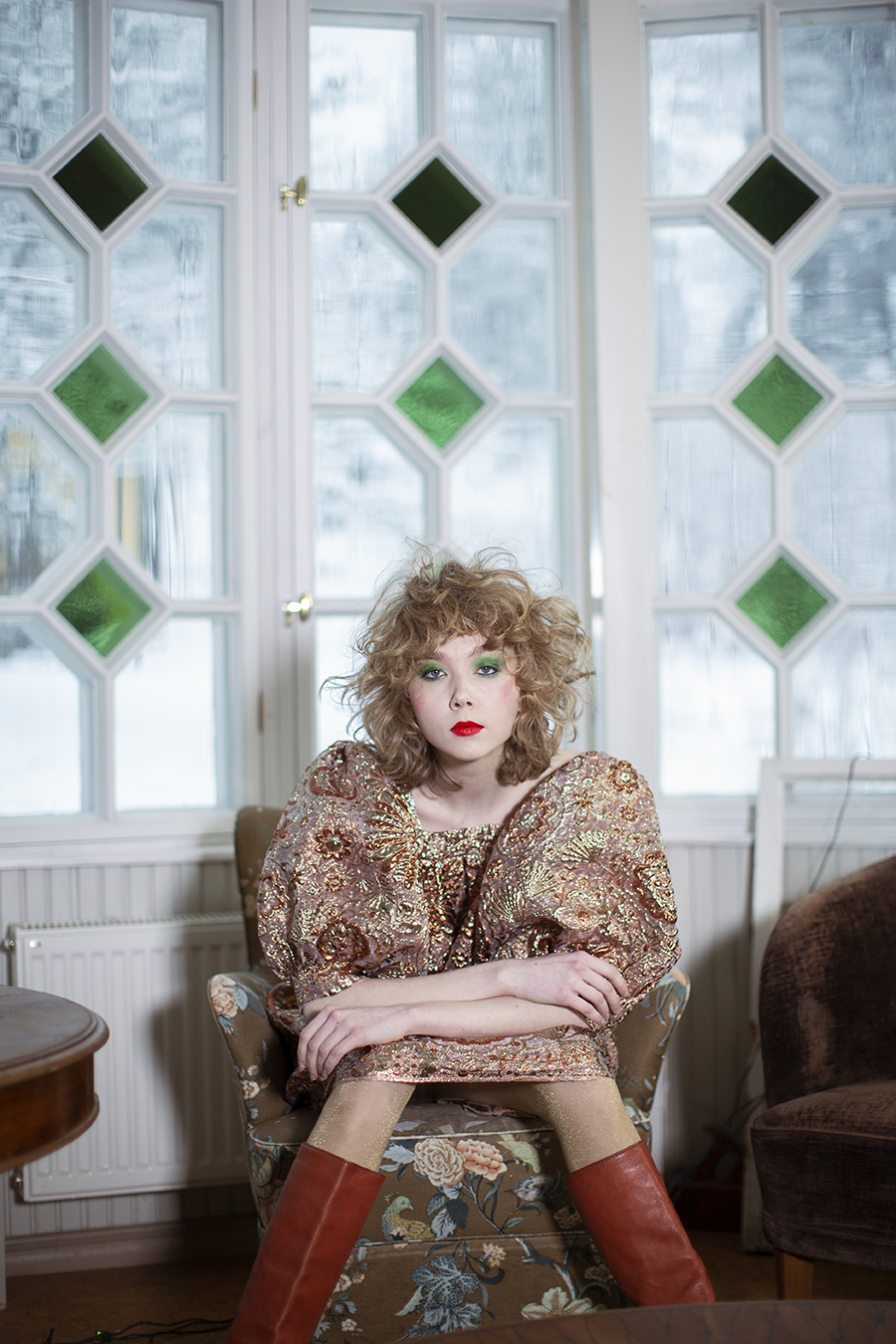 Just like Akenberg, your pieces have a distinct Nordic aesthetic. What does the Scandinavian nature and lifestyle mean to you?
– It means a lot. It's something I have always take inspiration from. The Scandinavian lifestyle is authentic with a hint of sadness and mood, and here in Finland we have a mixture with the Slavic culture. In Scandinavia we take nature seriously, and many of us feel that we belong to the nature. I do. Nature is part of who I am; I used to be a girl scout for 20 years. It's the same thing when we go on road trips, I don't want to stay in a hotel, I prefer living in a van or putting up a ten. Its relaxing, inspiring, and it makes you feel alive and free.
What is your relationship to Swedish Lapland?
– I used to snowboard a lot. I guess I was one of the first female professionals and I took snowboarding quite seriously. During those years we went to Riksgränsen in Sweden, and also to Norway, so we crossed Swedish Lapland by car. I think Sweden has a special flavour to it with the fields and barns in the countryside. It is similar to Finland but with a different tone.
What is your view on sustainability?
– Fashion is really overheated with mass production, so this is something everyone must pay attention to and act on. We need to educate the consumer so that they understand the whole production chain. The biggest problem are the quantities; no one needs to have 100 t-shirts in their wardrobe. We should concentrate on shopping less and more wisely. And understand why there is a higher price on sustainably produced products. It's about creating less but creative unique pieces that have a value. Ivana Helsinki has always been a sustainably brand. I consider our dresses pieces of art. We always produce small quantities and use what we produce in terms of garments. What's great about being a creative universe, you don't need to consume Ivana Helsinki through an immaterial experience but also through other channels, such as our music and movies.
You work with your own kind of fabrics and material. What do you know about cellulose acetate?
– I don't know that much but it sounds really exciting. It is always interesting to try out new innovative material from sustainable raw material. But for me it is really important that the garments feel good on the body.
Your favourite frame from Akenberg?
– Jokkfall Crowberry twist for sure. I love the pink colours and the transparent feel of the material. Also, they have a vintage feel but a nice attitude. They stand out from your collection and somehow, they call out to me.