Akenberg meets
Sofia Jannok
She can't remember a time when she didn't want to be an artist. Today, Sofia Jannok is one of Sweden's most appreciated Sami singer/songwriters.
Back with the new album LÁVV U, her fifth, she once again proves what a musical chameleon she is, moving seamlessly between genres and languages. Her unique approach is reflected not only in her songs, but also in her style, where the traditional Sami clothing mixed with contemporary fashion creates a cool signature look.
Looking back, she can see that the musical path was open to her already at a young age.
– Singing has always been close to me. I grew up in the small town Gällivare and my parents had all kinds of records available at home, soe were always singing and yoiking. Although I was quite shy as a kid, when I sang or read poems out loud, all my shyness disappeared. I remember being around 10 years old when my music teacher at school had a project recording Sami children's song and I got to sing solo. She said to me: "Wow, you have a really good voice". That was the first time I heard I had talent – and I liked it.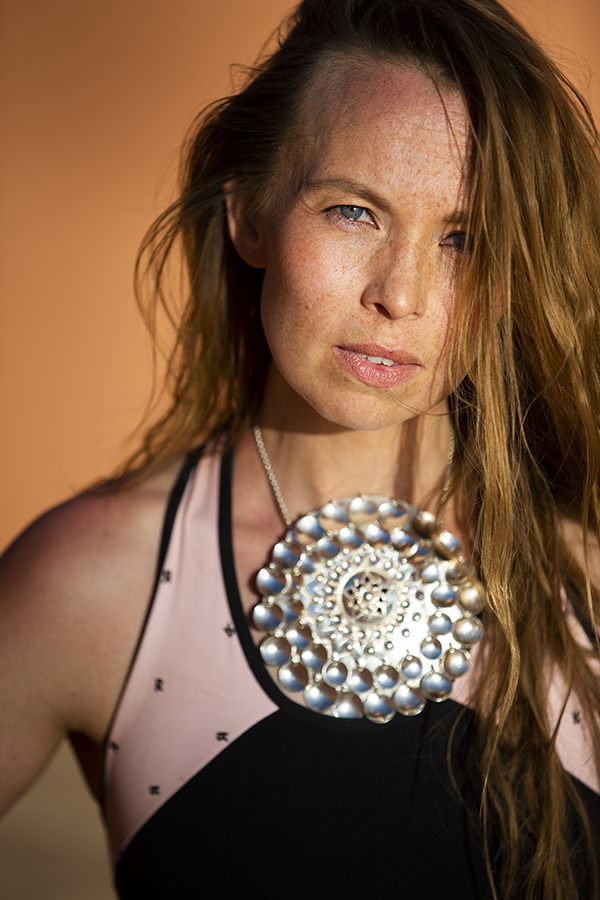 You sing mostly in Northern Sami, but also sing and write lyrics in Swedish and English. Why is it important for you to express yourself in Sami?
– Sami is my first language so why wouldn't I? Most people in the world have several languages within themselves, so I think that is more natural; there are no contradictions between the languages. That is also how I shape my music, with the usage of different languages and sound scapes, both mixing them on my albums but also combine them in my songs.
Tell us about your approach to music. How does your creative process start and which part of it is the most important?
– A good song, at least for me, has a melody that you can "get" instantly, that sticks to you. When singing it a cappella you should still hear what kind of song it is. That it can be stripped from everything else and it is still the same song without all the arrangements. That approach descends directly from the yoiking tradition which is my foundation, what I've learned as a kid. So, my creative process mostly starts with the melody, but sometimes it could also be a line. But working as a professional artist for 20 something years, I know that you can't sit and wait for the inspiration. I have to push myself and make room and time for creating, otherwise time is eaten up by everything else that goes on in life.
Earlier in 2021, you released your latest album LÁVV U. How would you describe it and what has been the inspiration behind the songs?
– This time I've been describing my inner world in a much more intimate and naked way that I've never done before. After having gone through difficult times. I needed to slow down and look inside. When I start working on an album, I always revolve around an element like snow or fire and this time it was the forest. I found that I needed to get centred and go somewhere safe from the winds always blowing around me, and the forest provided a shelter, a safe place. The whole album revolves around eternal themes like love stories, heartbreaks, sorrow and dreams. Things I have almost never ever been writing about before. And I really discovered how healing music is.
You come from a family of reindeer herders. How involved are you in the herding?
– My brother is reindeer herder full time and we all have reindeers in the community so I try to help out as much as I can. Reindeer herding is part of who we are. It's necessary to be involved, that's what life is about. People have forgotten the relationship to nature. And nowadays with the industrialization, it is hard for people to see and feel the climate change no matter how obvious it is. But when you're out there and stay connected to the nature, you can't deny it. I saw the devastating signs of the climate changes and what it meant for our reindeer herding already when I was 12 years old. It scares me that the world is going in totally the wrong direction.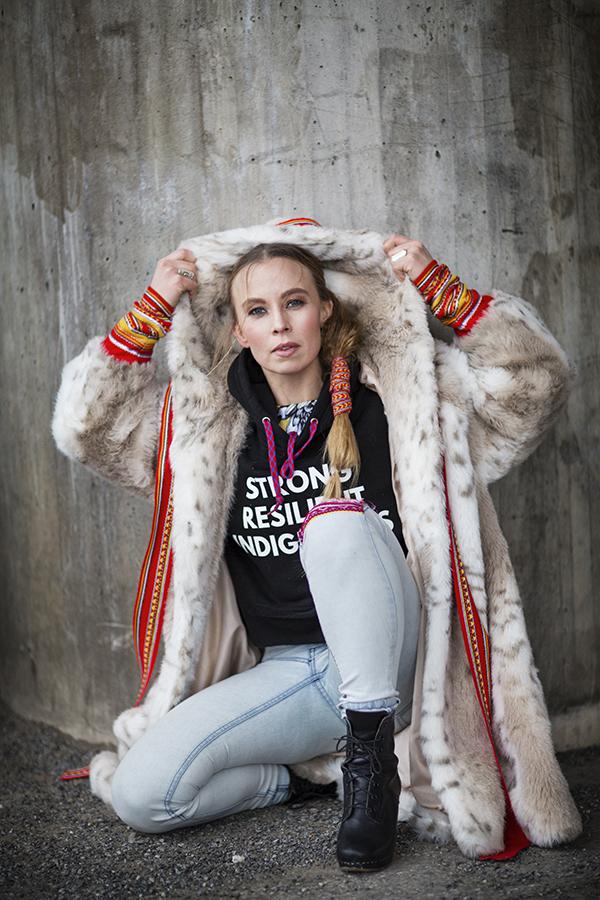 You are also an advocate and a strong voice for anti-racism and the fight for the rights for indigenous people. Why are you so involved?
– Why wouldn't I be? It's like music, I didn't plan it, it's just a part of me. Since my upbringing, everyone around me talked about it, and fought for basic human rights, cause all decisions coming from the government affected us. Today, when I have grown up, it is my time to raise my voice and continue the struggle. Many times, I'm considered controversial. I want people to be respected equally – how can that be considered controversial?
You are very productive, where do you get your energy?
– I don't see myself as productive at all. Everybody has 24 hours, right? When I find something really important, I try to work for it in every make to make it possible. The hard part of life is to know your goal and what you want. When you've found it, just go for it! I'm very grateful that I found what I wanted to do when I was a kid. The challenge is to find time to rejuvenate and not have to deliver every time. Spending time in the nature gives me much energy. I also try to meditate every day. The extrovert and the introvert parts of me need to be in balance – that's hard!
Which is usually the best moment of the day?
– Previously, when I was touring the world, I lived the typical rock star life, staying up very late at night and never experiencing the mornings if I didn't have to. But the past years, not being on tour, I've found that the mornings between 7 and 9 is the best part of the day. I love to see the world wake up!
And the most boring?
– Around 5 in the afternoons, cause I try to stop my working days around that time but I always have so much to do. It's also just before dinner and I always get a bit cranky that time.
Which Instagram profiles or blogs do you follow?
– @yungpueblo and @indigenousrising are two of my favourite Instagram profiles.
To get new inspiration you need to see the world and meet new cultures. An unforgettable place you've travelled to in the past years?
– Although I've travelled a lot around the world, I actually find Luleå archipelago amazing. In particular one island, Sandgrönnorna, is really cool as it is completely made of sand. It is situated really far out in the ocean and so fascinating because it is such a unique place. I still remember the feeling when I got to visit the island. The vastness and openness around it. At that time, I was into open spaces and reflecting and writing about every person being an ocean without no real ending.
If you didn't live in Umeå, in what city would you live?
– I'd probably live in Tromsö in Norway. It is such an inspiring place with wonderful surroundings with the fjords and the high mountains. The city itself is small but with an eclectic cultural scene, a lot of cool clubs and a university. My parents got married there in the 70's and my North Sami roots are also from that area. I've always wanted to live there at one point in my life but it hasn't happened yet.
Tell us about your next project!
– I want to record an acoustic project. I've been really into electronic music and productions where you have all the possibilities to do dynamic samplings. Now, I want to unplug and discover what happens. Create music as music is supposed to be, intimate. I also want to write more, or novels or short stories, so that is definitely on the agenda.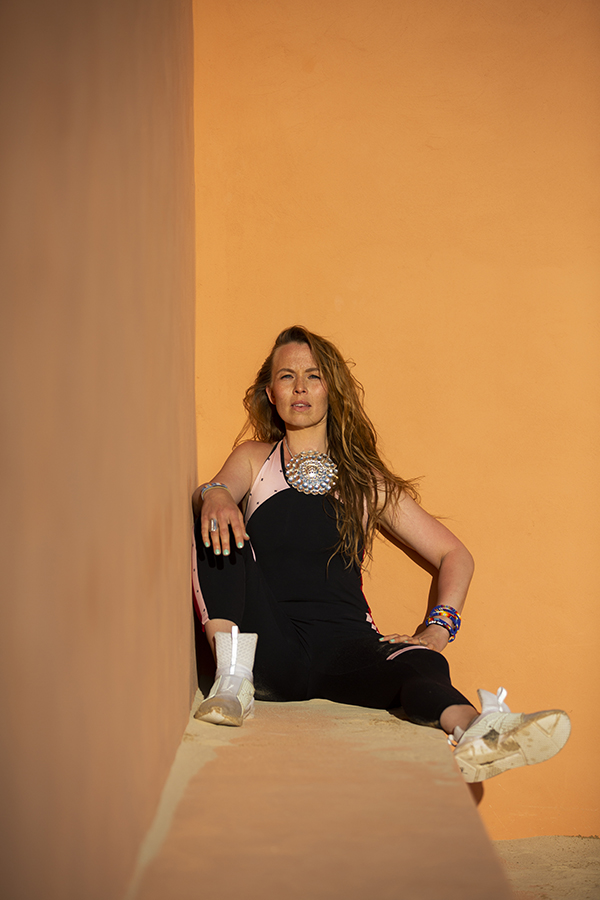 How do you dress for the stage, and how important is the personal visual expression for you?
– It's really important. I put a lot of energy into what clothes and what symbols I wear – and in what context. To lengthen the musical expression into the visual expression has always been important, so I try to reflect the overall message on a tour in my clothes and makeup. I try to stay true to my Sami heritage but also what I love and find beautiful right now. A lot of handmade jewelry and handicraft mixed with vintage clothes and old sneakers and things I find in my mum's old closet. I try to find new possibilities with old things.
How would you describe you style?
– Sami street! Just as in music I like contrasts. I love mixing traditional clothes with what is in fashion right now. You shouldn't be too anxious about what goes with what. Where I come from more is more! You just can't wear too much pearls or jewelry.
Your personal style signifiers?
– I always wear a big piece of jewelry in silver hanging on my chest. It's a risku, a traditional Sami silver brooch I wear to most outfits. It is a strong reminder of where I come from.
Who are the style icons that inspire you?
– The strong women that I had around me throughout my upbringing; my mum, my aunts, my grandparents. They always made beautiful clothes by hand meant to be worn for a specific reason and with a specific person in mind. My grandmother Brita Maria is my definite style icon. She was great at mixing traditional Sami clothing with contemporary fashion. She was super awesome.
What is your view on sustainability?
– We have to realise that we need to re-grasp the meaning 'respect for nature'. Nature is our soul. Nature is what we are. We can't be anything else. I think we have to have a totally different way to look at the world to be truly sustainable. We need to take care of what we've got and respect every piece as something that is supposed to last forever. It's difficult. Until we realise that we will be in this climate crisis – no matter how much efforts we put into finding and implementing sustainable practices and materials. I believe in humanity, and I believe that once you start to really respect one another, only then will we have a real shift that will impact the whole world.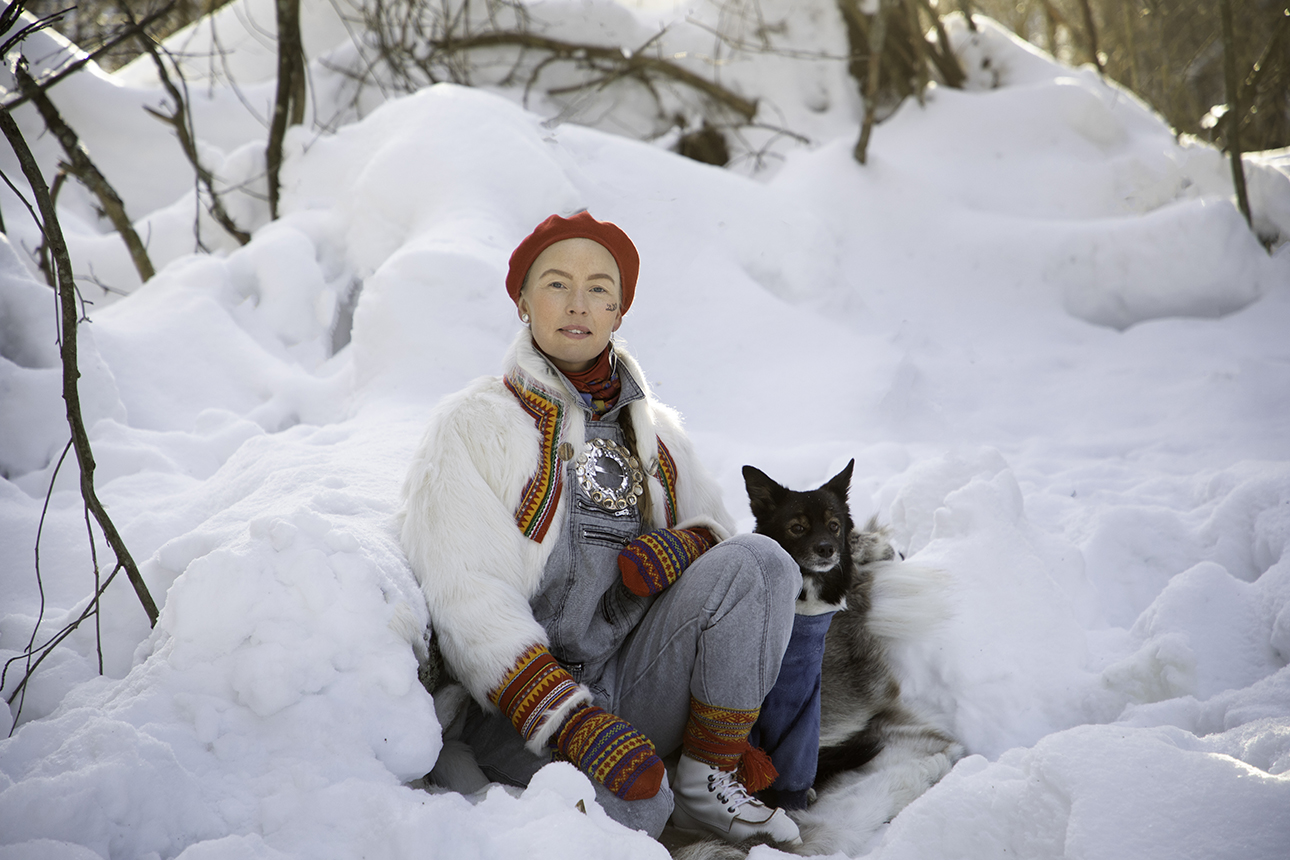 Spontaneously, what do you know about cellulose acetate?
– I don't know much about the material but I like that every piece you make is a piece of art, handmade wirh respect for the material and for the nature. Using innovative materials such as cellulose acetate might be a small step but it is an important one. And I appreciate that you as a small business do all you can for the big cause. I long for more of that kind of small businesses, having respect for the designs you create, the people that make them, and for nature.
We've heard that you have a very personal connection to Ahkka, the massif in the Stora Sjöfallet National Park in Gällivare, that has been the inspiration behind the design of one of our frames. Tell us about that!
– That's right. First of all, it is a stunningly beautiful mountain. It has a rounded structure reminiscent of a voluptuous woman. Actually, in Sami language the word Ahkka is the word for both goddess or grandmother. Secondly, the family on my Mother's side has lived there for generations. Many of my cousins go there every summer with the reindeer herd to let them graze them land, and I've been visiting them from I was a kid. Seeing Ahkka from the window is such a beautiful view.
So, is that your favourite frame from Akenberg?
– I'm so into every frame you've designed! Besides Ahkka, which I really love, I'm also a big fan of Tärendö. I like the size, that it is bold and takes its place. As I said, to me more is more! And also, with the high cheek bones that I have I need the right type of frame like a butterfly shaped one.