akenberg meets
Chloé Gisele
She has performed at Wembley stadium in London, competed in "The X Factor UK" and Swedish "Idol" and had her debut single "Whine Up" gone viral on Spotify. With the release of her new single "Lights on Us" on 22nd of February, is Chloé Gisele now ready to take on the world with her unique sound influences by R&B, hiphop and pop.
Recently relocated to Luleå, this talented and strong-willed singer gets much of her inspiration from the Swedish nature, the arctic landscape and rugged mountains where she regains energy to pursue her musical dream.
– My songs are about life in general. I write about happiness, sadness, love and unrequited love. I've had a few years of struggles emotionally due to an unhappy relationship and most of my songs are written during that period. My songs are a reflection of those years and then the happy times that occurred after moving on.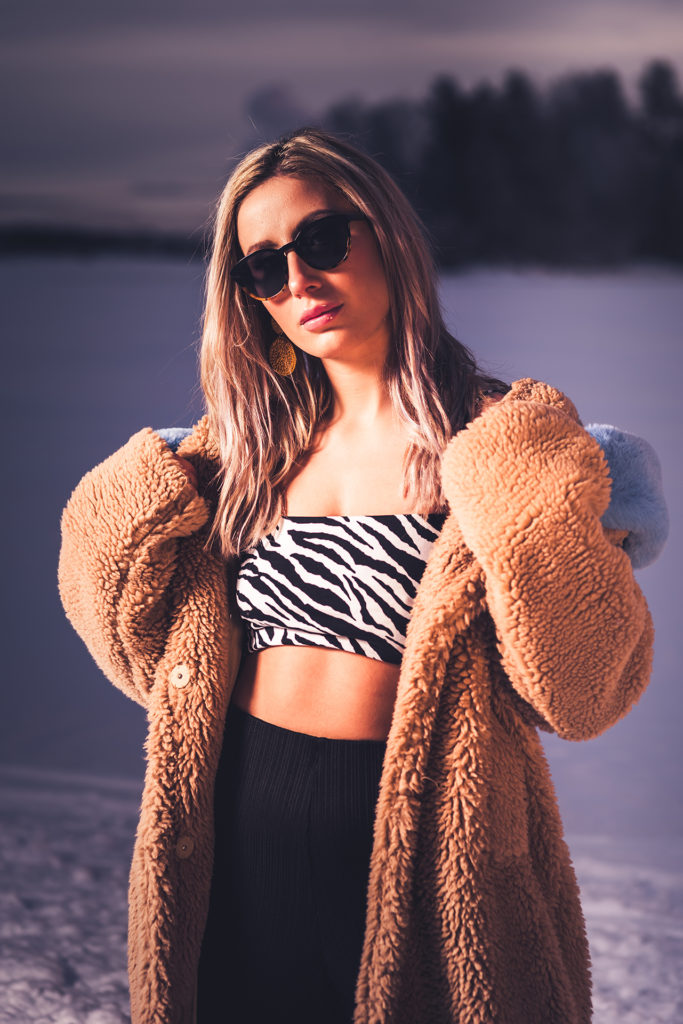 Which part of your working process is the most important one?
– I always want to come up with the melody first. I value a strong melody and it's more effective to write a catchy and smart lyric after having the base of melody finished.
When did you know you wanted to be an artist?
– I've always wanted to be an artist! I started performing at kindergarten with my two girlfriends and since then I've continued.
The highlight of your career so far?
– When my second single "Play" was released and made it to the playlists all over the world. It was a song my producer and I wrote just for fun, and we knew that it was a bit different from other songs in my genre so it was risky for us to release it. We weren't sure that people would like it – but they did.
What does your daily life look like?
– I study political science and since I've moved to Luleå, I study through distance learning. I try to be outdoors as much as possible, and I reload at the gym in between the studio sessions and other musical work around Sweden. That means I need to use every hour of the day wisely.
Which is usually the best moment of the day? And the most boring?
– The best moment is right after having my energy drink and the morning workout. Then I feel energized and prepared for the day. The most boring moment is when I don't have anything special on the agenda. I need to be doing something all the time – whether it's skating on the ice, writing my essays or being in the studio doing music.
What does a perfect Monday look like for you?
– I preferer waking up quite early, eating a steady breakfast and then be on the way to some sort of adventure. It doesn't matter if it's a hike in the Kebnekaise area or a trip to Stockholm for the Grammy Award party. I want to take advantage of the weekdays, as much as the weekends.
How important is social media for you as an artist, and how close relationship do you have with your fans?
– My fans are the best! I've had a few fans from my "Swedish Idol" participation and they have followed me during the years. I once brought two fans with me to a café, waiting on the train, just before I was heading towards the live shows in "Swedish Idol".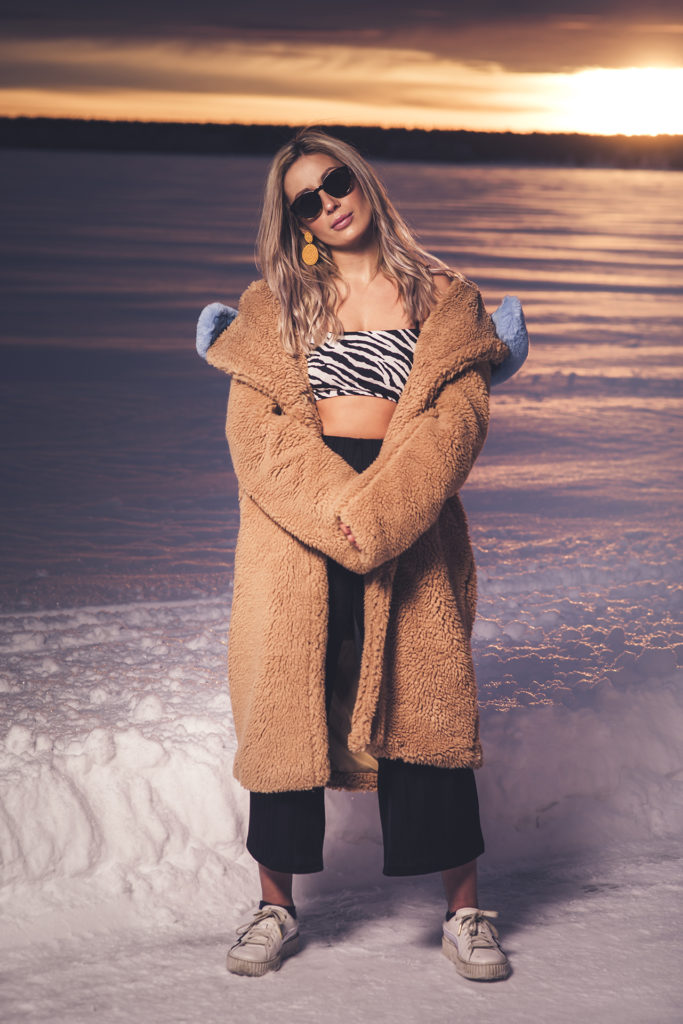 Tell us about your next project!
– Now my new single is out which feels great, and I will continue working on my debut album to be released later this year. Besides that, I'll probably go on an expedition to a 7 000 metres high mountain. I love being outdoors, climbing mountains and just be one with nature so that will be fun and exciting!
Where are you in five years?
– In five years, I'm hopefully on tour in different countries while having my base in Luleå. I want to travel the world with my music and I want to inspire people.
What is your relationship to Swedish Lapland?
– My grandparents were born and raised in a small community outside of Jokkmokk but moved to Gothenburg when they were in their mid-age. I've always longed for Lapland and started climbing mountains in Lapland alone when I was 20 years old. After the first time at Kebnekaise, I fell in love. I've always felt peace and a good energy up north so I decided to move here last year.
Your instrument is your voice, but how important is the visual expression for you?
– The visual part is important when it comes to the image. As an artist, it's important to have a personal style, both musically and visually. It goes hand in hand. I feel liberated when I'm Chloé Gisele.
Photo: Daniel Holmgren
How would you describe you own style?
– My own style is a mixture of my feelings and created by the event. I don't think too much about colours since I like to pick out different cool items, colours and textures and mix them all together. I'd say that my style is a mix between femininity and sport.
Favourite designer when it comes to fashion?
– I love Rihanna and her designers. She's into the sporty fashion with an edge. Her designs are full of attitude – just like her music. She is an inspiration and a true style icon.
Your favourite look?
– Sporty but feminine. I love wearing cropped tops and sunglasses on stage. Sunglasses makes me go into my role as Chloé Gisele. It gives me a boost of confidence.
How do you combine your outfits with accessories?
– I usually don't think too much. I go with the feeling. But sunglasses is my favourite accessory by far!
Spontaneously, what do you know about acetate?
– I know that it's a synthetic fibre that's environment friendly.
Your favourite frames from akenberg?
– To be honest – I'm in love with all of your frames. They are a splendid mixture and they fit every event. Plus they are locally made – I love that! But my favourites are Skaulo in the colourway Black night resin drop. They're classical with an edge, which suits my personality!